Neither Heather nor Olaf had ever imagined themselves having a big white wedding. So, with their families on opposite sides of the world, they decided to Elope to Trieste, a beautiful, unassuming city on Italy's North-Eastern coast. Although I know they held their families close to their hearts the whole day long, turning their wedding into an intimate celebration and an epic holiday was the right choice for them – and what a celebration it was!!
Getting Married in Italy: Piazza Unità, Trieste
The world over knows that Italy is a country full of passion – Italians love love, they love family, but also, they love paperwork! Heather & Olaf decided to have a civil wedding through the Trieste comune, or council, where they could only book the date 6 months beforehand. It's a funny little Italian rule for civil weddings only, but when you choose to elope in the midst of a month-long holiday and get married with just a few of your closest friends, it's not so important. And either way, it's all made better by the civil celebrants who never fail to bring with them a great zest for life, love, and passion.
In Heather & Olaf's case, the surprisingly soft-spoken celebrant struggled to pronounce Manjimup – the small West Australian town where Heather grew up – and encouraged both of them to smile, laugh, cry, and hug. "Ragazzi, è un matrimonio! È giusto essere emozionati!' Heather & Olaf left with small gifts in hand, new rings on their fingers and some epic smiles on their faces.
Italian Elopement Photography in Trieste (or Slovenia?)
When Heather & Olaf called me to finalise plans for their Italian Elopement Photography in Trieste, they asked if I'd be keen to head to Slovenia for portraits instead. It was a 15-minute drive over the border. For so many Europeans, this proximity is normal, but for Australians, especially from Perth, it never fails to surprise. This is the beauty of Europe though, and especially of having an intimate elopement in Italy's North! You can move from one landscape, one language, one culture to another with just a quick drive!
Of course I said yes, and so we drove through green woodlands and up steep mountain roads, before finding ourselves in the tranquil Slovenian countryside. For Heather & Olaf, who'd both always dreamed of a small wedding, this time taking portraits was the perfect respite, and a moment to reflect. Like the celebrant said, a wedding is a big deal! It's only right to make time for the emotions of the day to wash over you.
Trieste Elopement Wedding Dinner: Osmiza Stoka
After their short ceremony and relaxed portrait session, Heather & Olaf celebrated in the way only an Italian and a lover of all things Italy could – with endless amounts of food & wine, sweets & grappa! We drove back across the border and down into the city before ascending the hills on the other side, in search of one of Trieste's hidden gems, the Osmiza.
An Osmiza is a remnant of times gone by in the hills surrounding Trieste, when farmers used to open up their gardens to merrymakers and sell off their leftover produce. Wine, cheese, sliced meats, pickled vegetables and hard-boiled eggs that create an echo of satisfying cracks are all staples. But perhaps what makes these hidden family-establishments so special is that they're only allowed to stay open for a few weeks each year! A quirky Italian way for the farmers to legally skip out on taxes & bureaucracy, and for the government to maintain some kind of control over the region's much-loved tradition.
At Osmiza Stoka, one of Heather & Olaf's favourites, we all laughed and talked and ate til our heart's content. There was a cake from the couple's favourite local bakery and shots of grappa passed from person to person, loud cheers in-between. We took some more portraits in the surrounding gardens, and we all drunk in the seemingly infinite, breathtaking view over Italy's North-Eastern coast and the smooth surface of the Adriatic Sea. The night ended with the 8 of us running through a rainstorm to the car, hearty hugs and kisses on both cheeks, and I'm sure we'd all agree – it was the perfect ending to a most perfect day.
Are you planning a Destination Wedding in Italy? Or considering eloping somewhere in Europe? Get in touch! I'd love to help you plan the perfect way to celebrate your intimate wedding or elopement!
Italian Elopement Photography: Trieste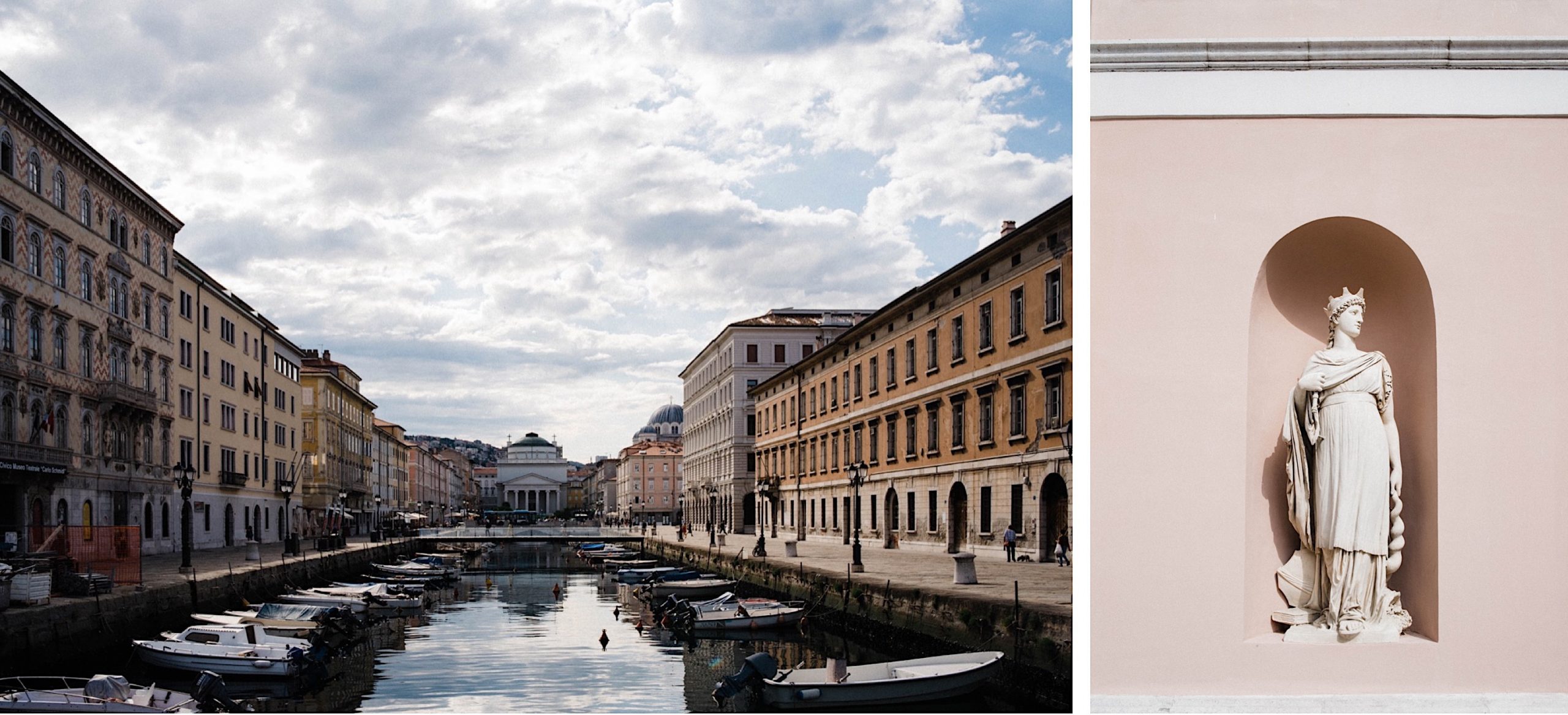 Intimate Italian Elopement Ceremony at the Trieste Comune
Congratulations & Group Photos at the Piazza Unità d'Italia e Molo Audace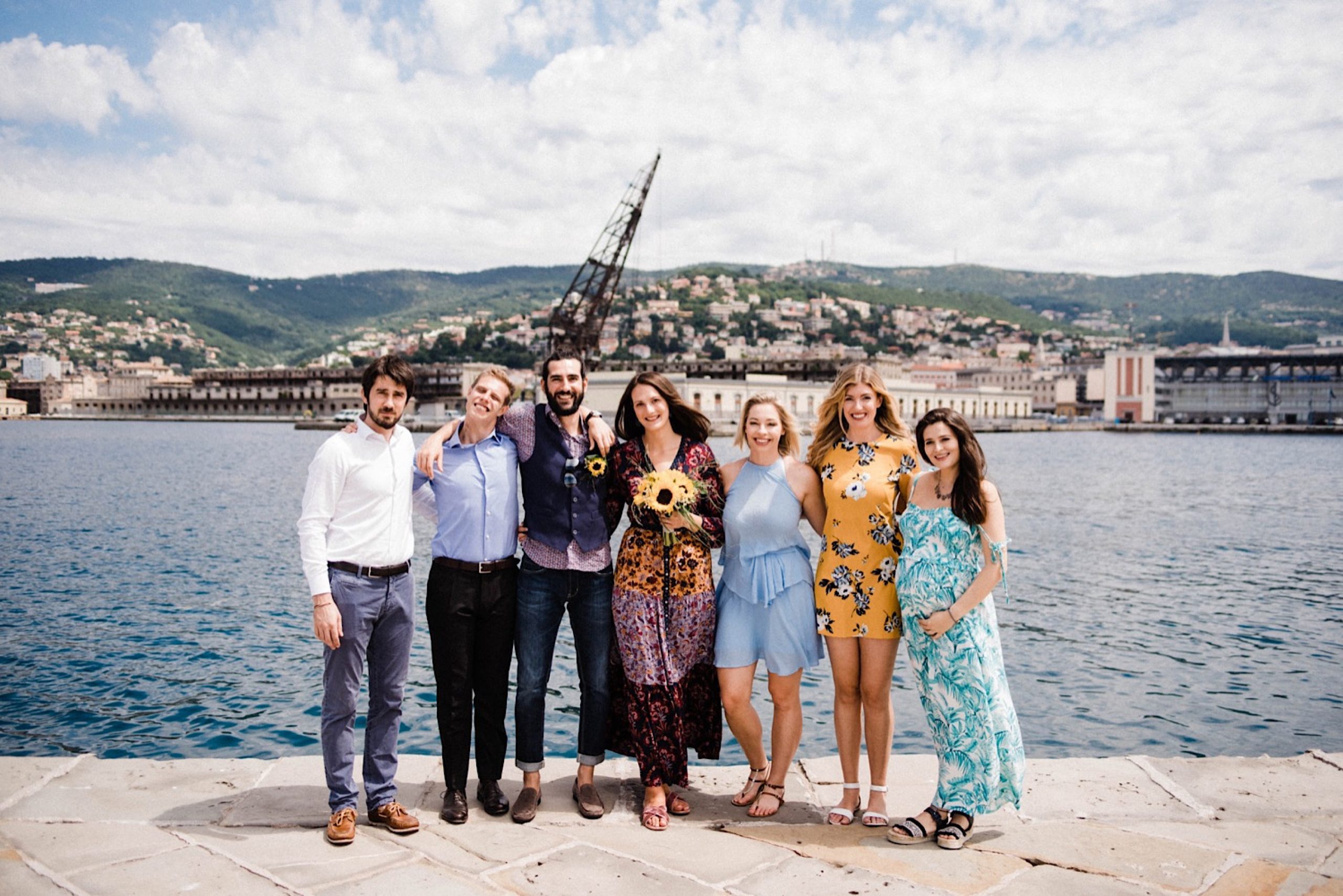 Wedding Portraits in Slovenia
Intimate Italian Elopement Photography: Portraits & Dinner at Osmiza Stoka, Trieste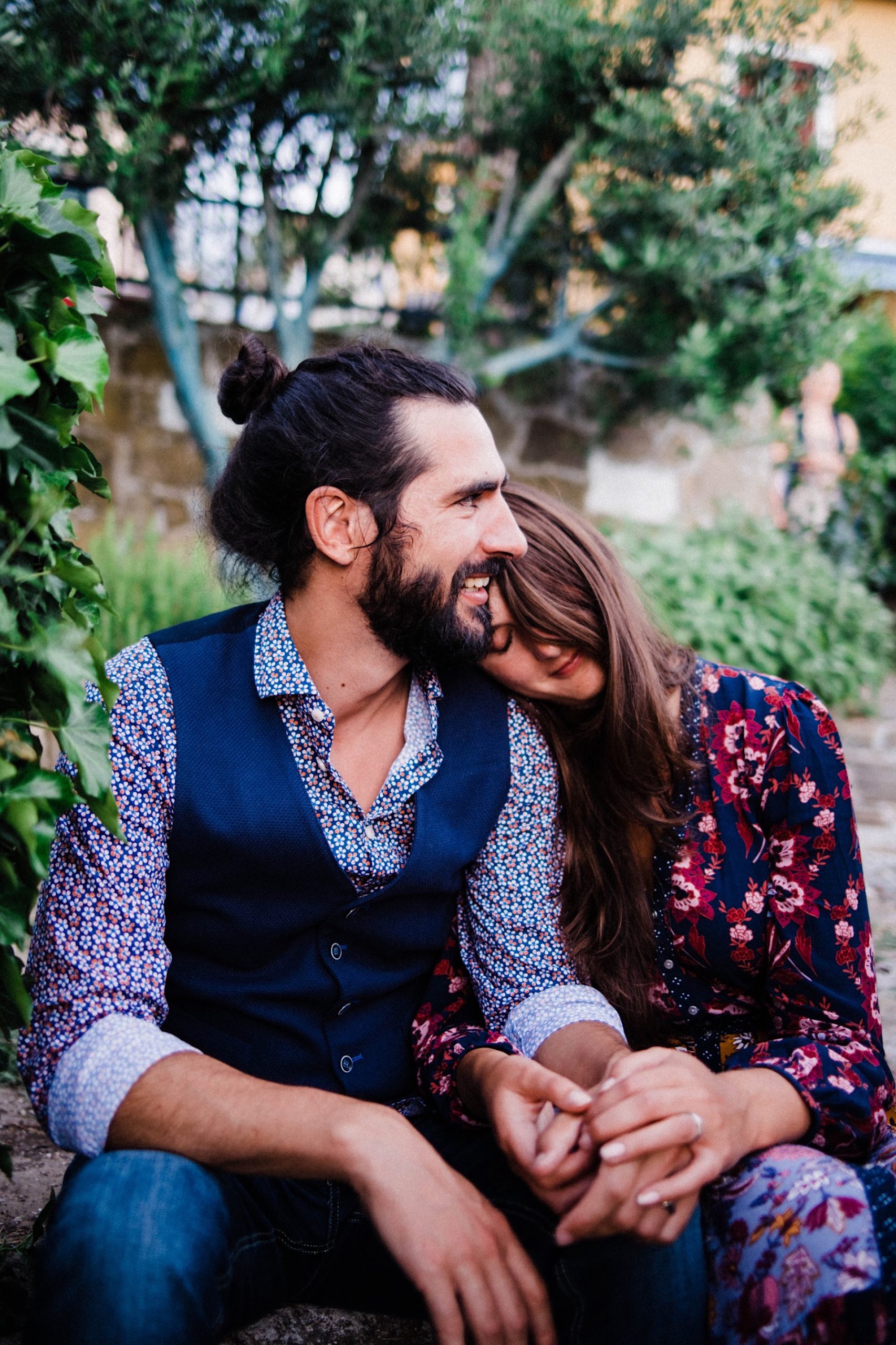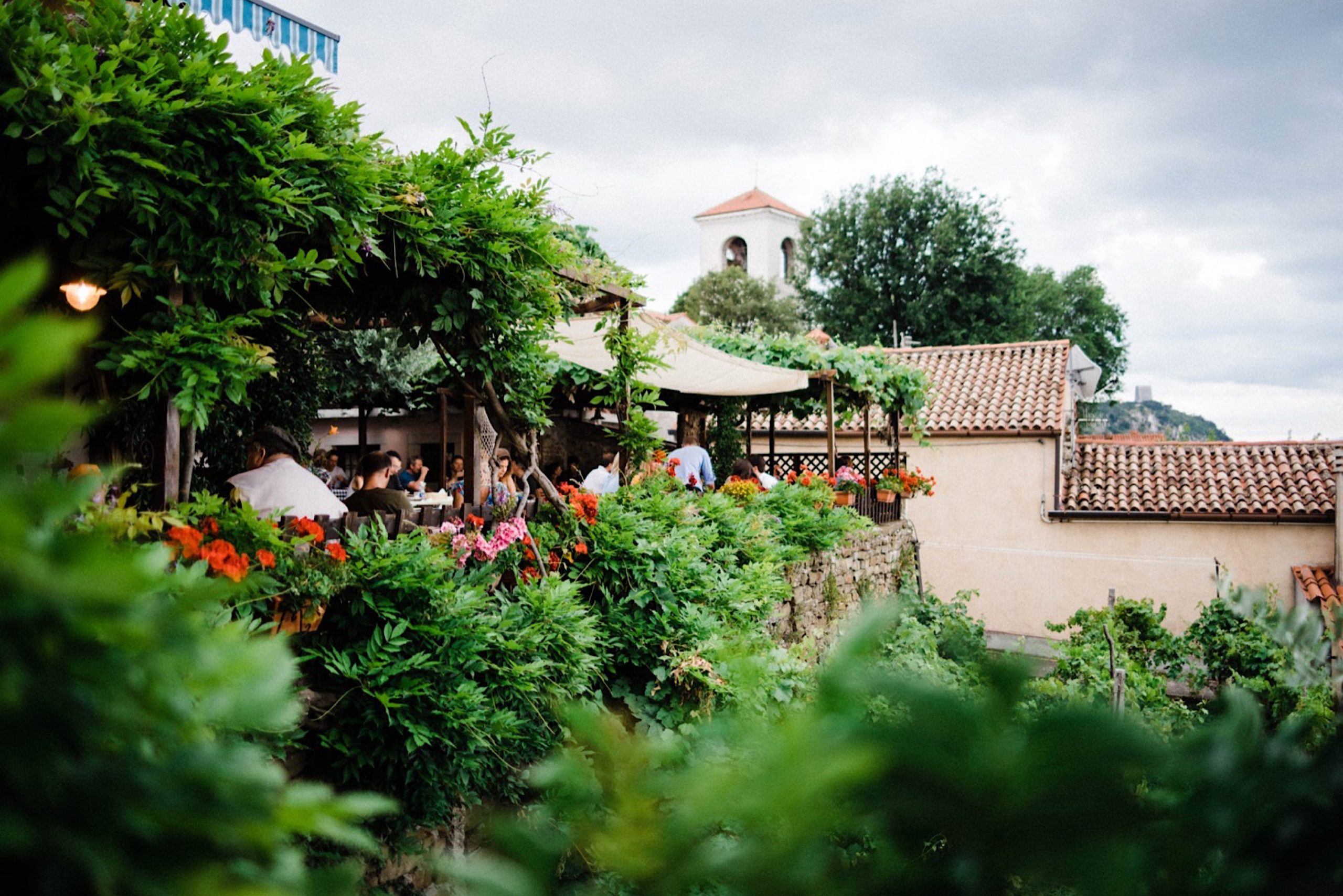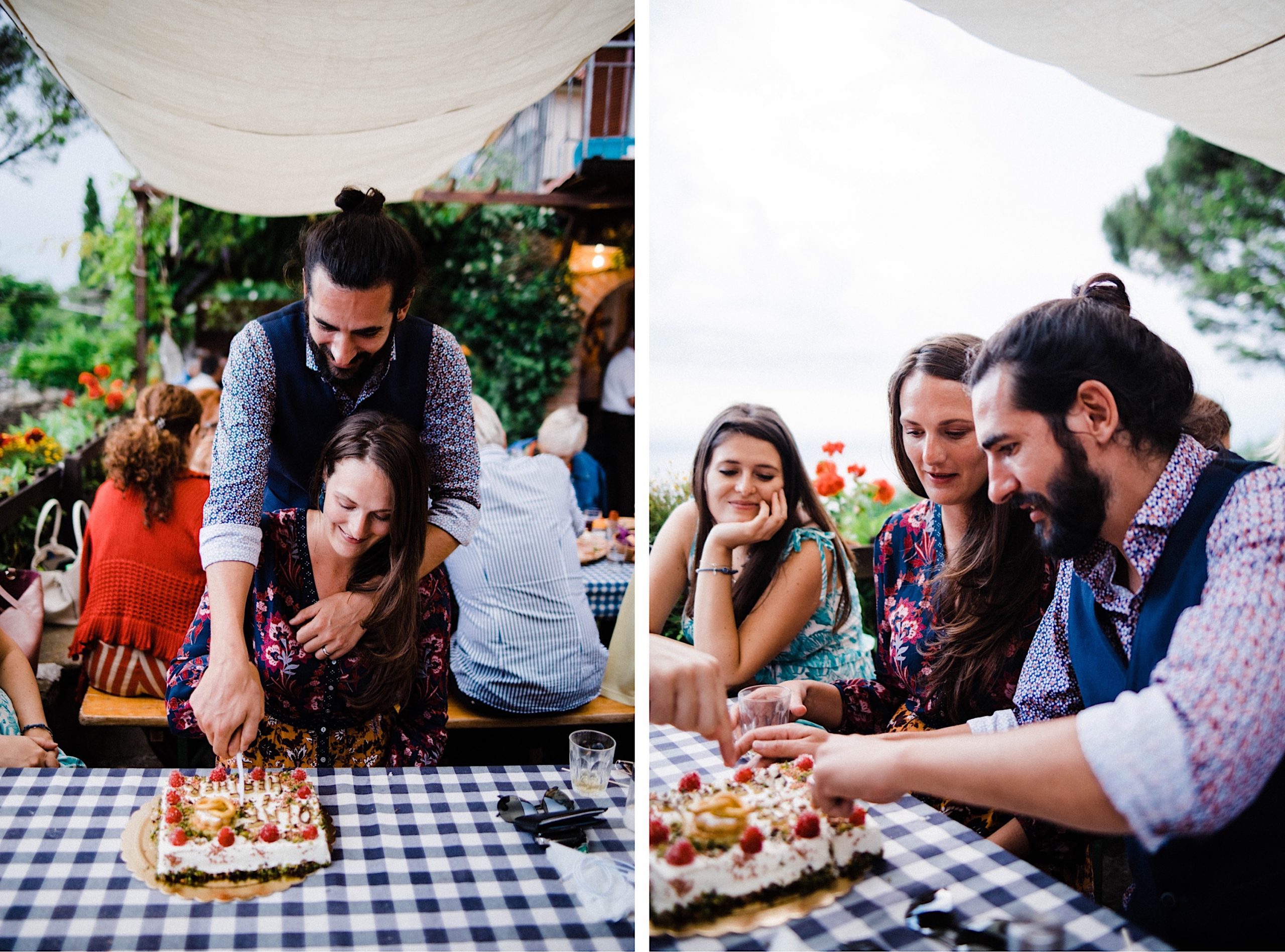 Get in touch now to start planning your Destination Wedding! 
Related