A Wedding Day Filled With Joy
On Bron & Pete's wedding day in Donnelly River there was one thing that stood out above all else – it wasn't Bron's beautiful bespoke bridal gown, it wasn't Pete's dapper white linen trousers that he worked so hard not to wrinkle, and it wasn't even the kangaroo and emu wedding crashers. On Bron & Pete's epic wedding day, the thing that shone above all else was Bron's contagious smile, the smile that remained plastered on her face from the moment she saw Pete at the end of the aisle.
When the two of them got engaged, I remember asking them about their wedding plans, and the focus was mostly on the guests, "this is the only chance we'll probably ever get to have ALL of our favourite people and our families in ONE place! Think about that!"
Donnelly River Village in Perth's South West
With that in mind, they booked out Donnelly River, one of my favourite Wedding Venues in Western Australia. An old logging village, Donnelly is dotted with old cabins, friendly wildlife and has so many beautiful spots to get married. Most importantly for Bron & Pete, it meant they got to spend a whole weekend with their loved ones, instead of just one day. Guests arrived on Friday night, they partied late into Saturday, and on Sunday we woke up, cleaned up, guzzled cold brew brewed & bottled by Bron & Pete themselves, and downed a bacon & egg roll or two. 
Partying asides, the wedding day itself was a big old celebration of Bron & Pete, with the ceremony being one of their favourite parts of the day. It stayed true to them and their families, incorporating some traditional elements whilst scrapping things that didn't resonate with them. The most special moment though was when their Celebrant surprised them by saying that the law defines marriage as between two people. Neither of them knew that 9 December 2017 would be the day that Marriage Equality finally arrived in Australia. 
It's no wonder Bron couldn't wipe that smile from her face. 
The Venue: Donnelly River Village
Getting Ready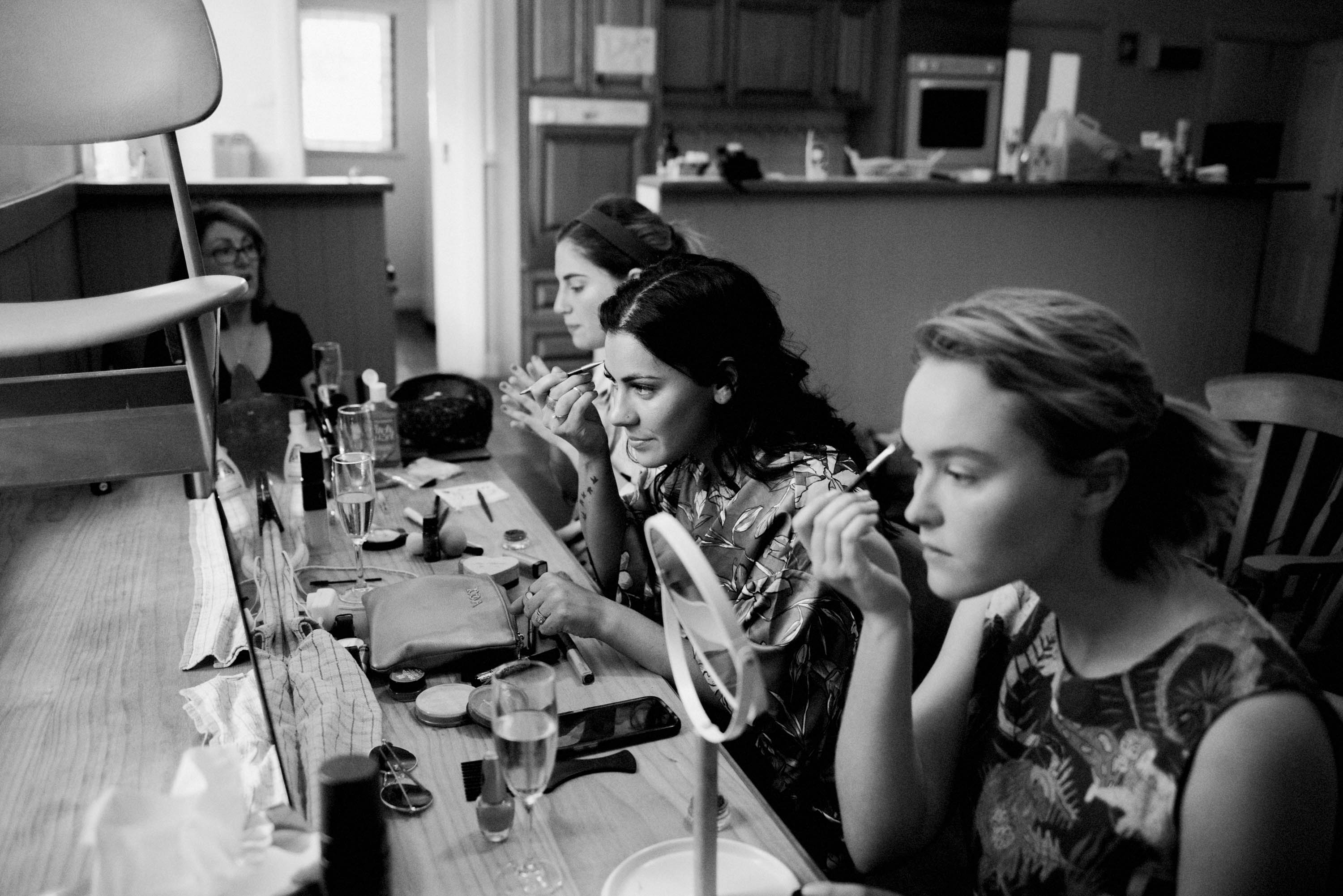 Donnelly River Village Karri Forest Wedding Ceremony
Wedding Portraits
Donnelly River Wedding Reception
Bron & Pete's advice to couples who are planning a wedding:
"Take a long engagement and don't forget to keep yourself grounded by reminding each other why you're getting married. Also, accept any help that's offered!!"
If you're interested in having me photograph your wedding – analogue or digital, and wherever in the world – please do get in contact by clicking on this link! I'd love to capture your day for you & yours to look back on for years to come.
PS. If you'd like to know where I'll be and when, just check out my travel dates here!
Locations of note:
Ceremony + Reception / Donnelly River Holiday Village
Vendors of note:
Stylist / Daisies & Doors
Gown / Harriette Gordon
Flowers / Covet Collect
Bride's Shoes / Dr Martens
Lights / Flaver Productions (set up by Bride, Groom, Family + Friends)
Celebrant / Nathaneal Ditchburn
Catering / Pip Mills
Cake / Little Cheese Shop
Band / Harry Mitchell Quartet
Second shooter / Zaneta van Zyl
Related